Kick Off the Giving Season with an All American BBQ at Rotisserie Affair Catering Benefiting Dance Hearts/Bells of Freedom
About this Event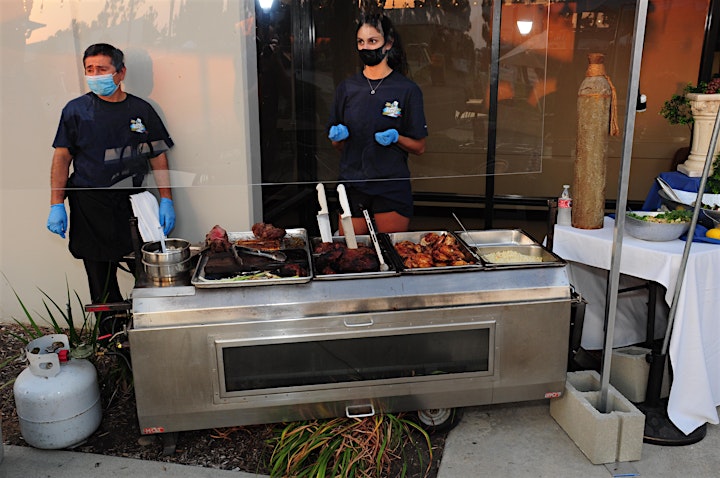 Join hosts Tanya and Louis McKay, Directors of Dance Hearts/Bells of Freedom for a fall evening of American BBQ and local wine at Rotisserie Affair Catering in San Diego, California on Thursday, October 29th from 5:00 pm until 8:00 pm to experience the mouth watering, family-friendly All American BBQ faire presented by San Diego's most experienced and sought after caterer, Rotisserie Affair Catering lead by San Diego resident, Kevin Fisher paired with handpicked wines from Roberto Espinosa and Espinosa Vineyards, Escondido, California with Music for the evening provided by Atomic Groove Productions. Proceeds Support Dance Hearts/Bells of Freedom's mission to care for local Marine and Navy families effected by the COVID-19 pandemic.
Reserve a Spot Now! Call 858-578-8891
Located conveniently between the 805 and 1-15 Freeways on Carroll Road in San Diego, Kevin Fisher has created a kitchen/deli known for the most tender and juicy meats; where the ovens are safe, clean, smoke-free and self-contained. His carefully created style of rotisserie cooking is to let hot air circulate around the meat evenly in a dry, enclosed atmosphere. This process maintains the moisture and natural juices intensifying the flavor, thus producing a tender, juicy meat with superior taste and aroma. Cooking the foods in a smoke-free oven with clean burning propane means the foods are better for you and better for the environment.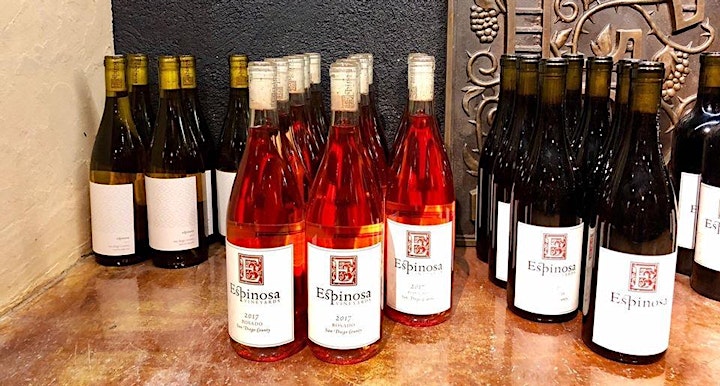 Outside evening dining restaurant style under farmhouse lighting sets the mood. All necessary measures will be in place (social distancing, face masks, plexi-glass dividers, etc) to ensure the protection and safety of all Attendees.
The All You Can Eat Menu Includes:
Tri Tip Roast Beef
BBQ Ribs
Pulled Pork
Rotisserie Chicken
Tossed green salad
Country style potato salad
Barbeque Baked Beans
Cole slaw
Garlic Bread
Dessert
COST: $ 29.95 + tax/adults ; $ 15.00 + tax/children (paid at venue)
Pair that with the award winning wines from Roberto and Noelle Espinosa of Espinosa Vineyards in Escondido, it is a night to remember. Wine will be available at $10.00 per glass.
But there's More! Enjoy music from Atomic Groove Productions' "The Atomic Duo" featuring Atomic Girl Carrie and AG keyboardist/Musical Director Rob, playing upbeat background music, duo-style. Also featuring special musical guest, percussionist Monette Marino.
Admittance is by RESERVATION ONLY. To Reserve you spot, call Rotisserie Affair Catering at 858-578-8891 Today!
20% of food and wine sold during this event go to support Dance Hearts/Bells of Freedom's Emergency Care Fund that directly supports our local Marine and Navy families impacted by the COVID-19 pandemic.
Bells of Freedom is a program of Dance Hearts, a 501 (c) 3 nonprofit, tax-exempt organization specifically dedicated to connecting our in-service military men and women to the community they serve in the form of holiday "family" adoptions and emergency help throughout the year.
Bells of Freedom provides an avenue for everyday people to connect with members of our United States armed forces to show appreciation through financial and emotional support of our serving young men, women, and families of the military.
For more information regarding Dance Hearts/Bells of Freedom visit www.bellsoffreedom.org